🧿 Childhood development is the single most important predictor of wellbeing in a person's full and healthy development.


🧿 Every being on this planet has been impacted by their childhood experience and conditioning received.
Your healing is your choice.


🧿 Consciously heal your wounds, reprogram your mind, and truly heal your inner being to live free and abundant in every way.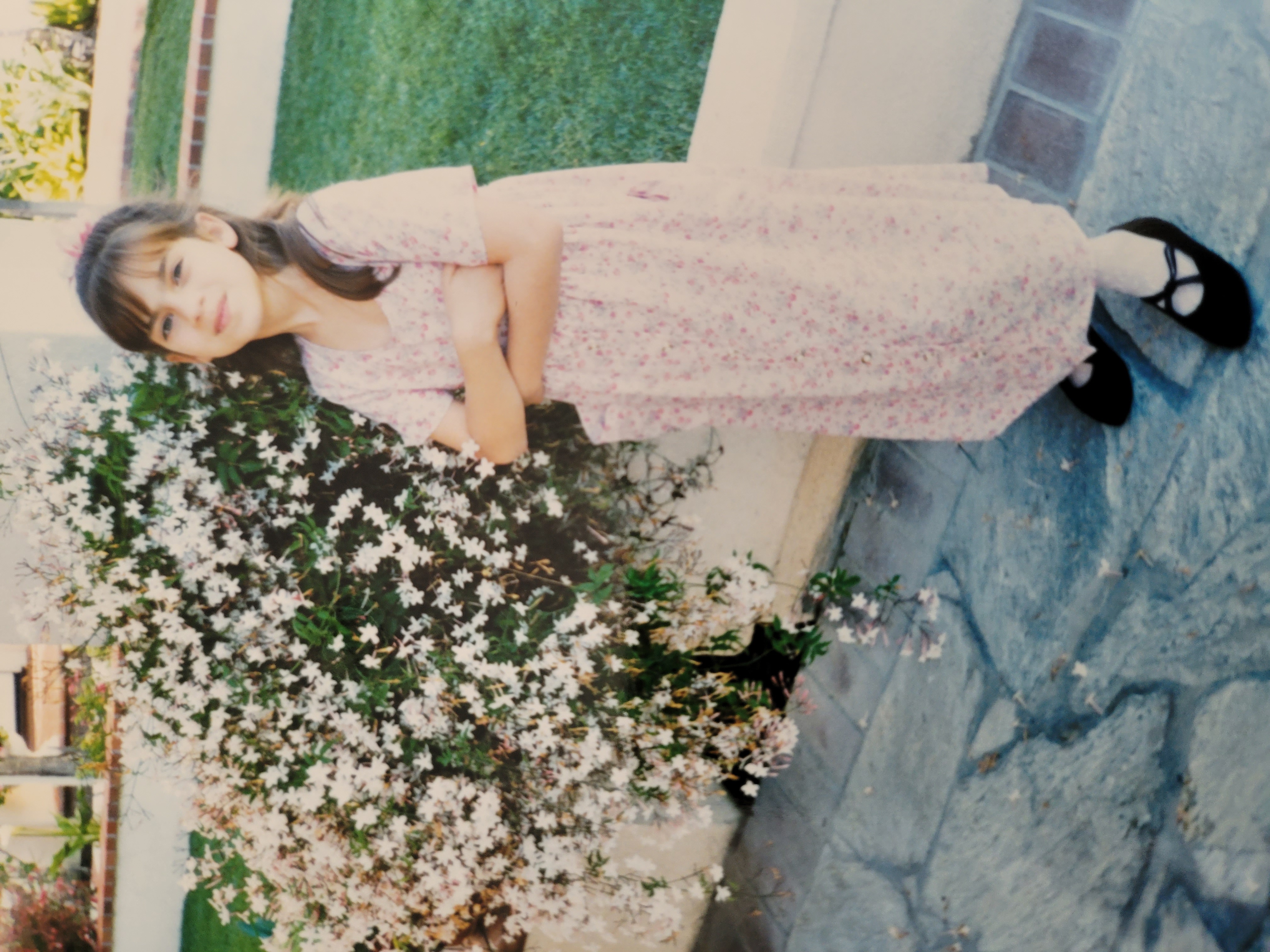 Is your past holding you back?


Are you repeating harmful patterns and seeing the same cycles come up for you again and again?
I created the Conscious Healing Program for self-healers who...
✨ Know they're being affected by their past and that they have a better life out there.
✨ Are tired of suffering.
✨ Are ready to become conscious to their inner wounds so they can truly learn to self heal.
If this is you, keep scrolling!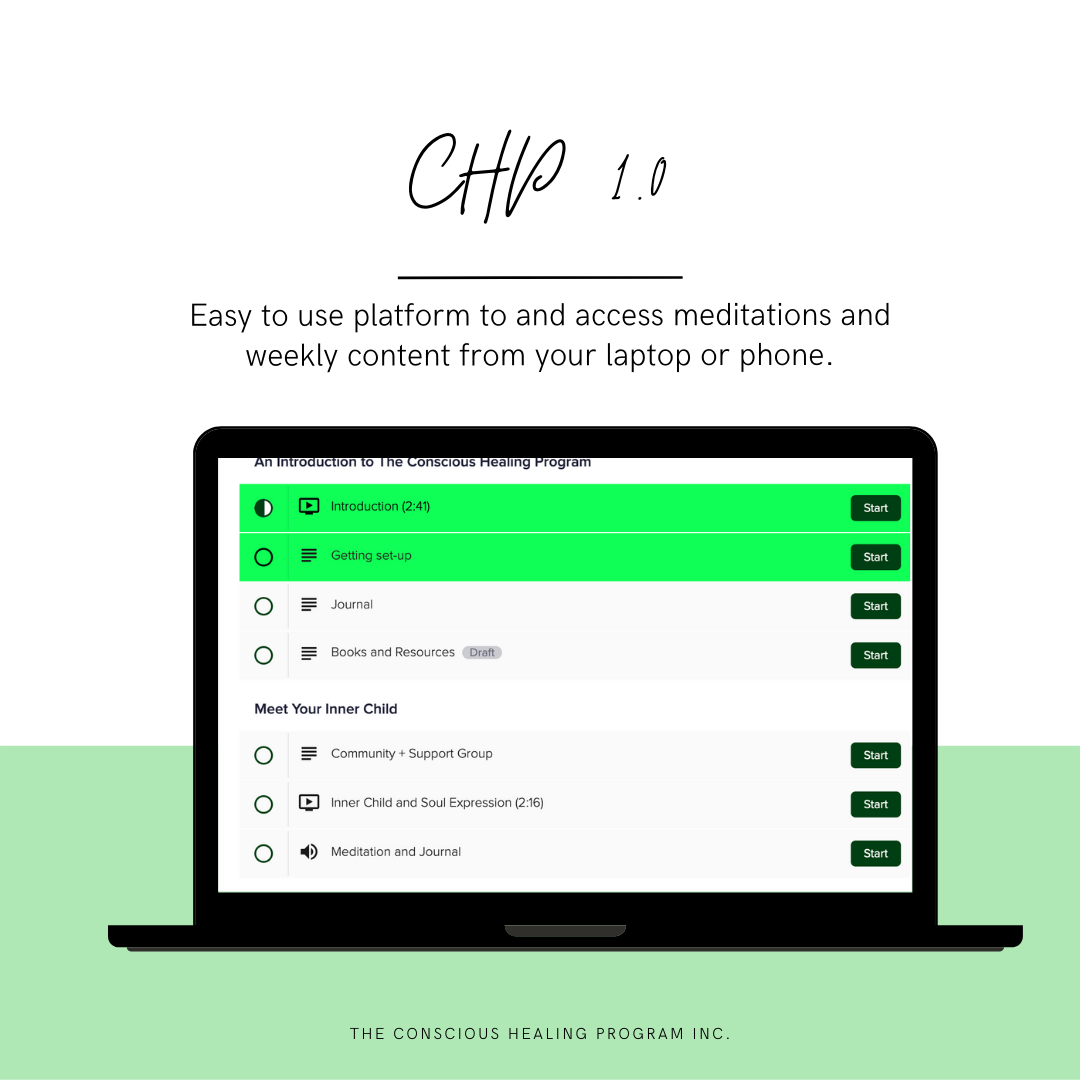 Take a look at the full
program syllabus:
Week 1 - Introduction
Week 2 -

Meet your inner child

Week 3 - Emotional regulation and coping
Week 4 - Unpacking your story
Week 5 - Feeling through your story
Week 6 - Reparenting
Week 7 - Processing unmet needs
Week 8 - Reconnecting with your inner child
Week 9 - Resistance and reintegration
Week 10 -

Closing
Together we'll help you find freedom from your inner child wounds, understand your self and your experiences better, and unpack your trauma.

Make sense of the past
so you can own your future and live in the present.

Our inner wounds, if left unhealed, seep into every part of our lives. Carrying childhood trauma (whether or not we're aware of it) brings doubt, lack, scarcity, fear, and pain.
Healing is absolutely possible. Recovering your worth is possible! And even though it can be a dark and twisty road sometimes, it's one worth traveling down. (Don't worry, I'll be with you every step of the way!)
This program will remind you why you're worthy. Why you're someone worth taking care of. And why the best person to do that is YOU.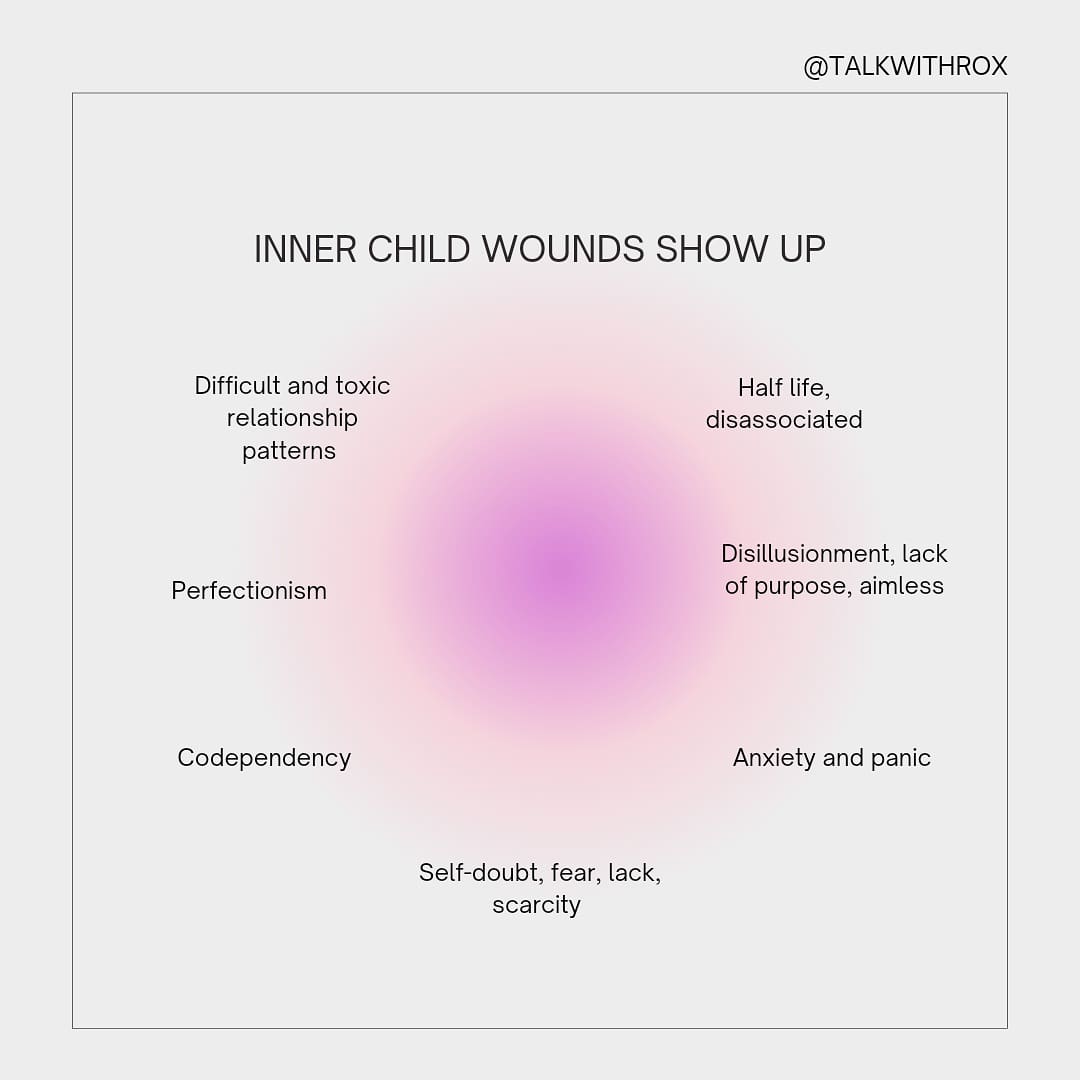 Learn more about the program and how it got started here:
Until you make the unconscious conscious, it will direct your life and you will call it fate.


-Carl Jung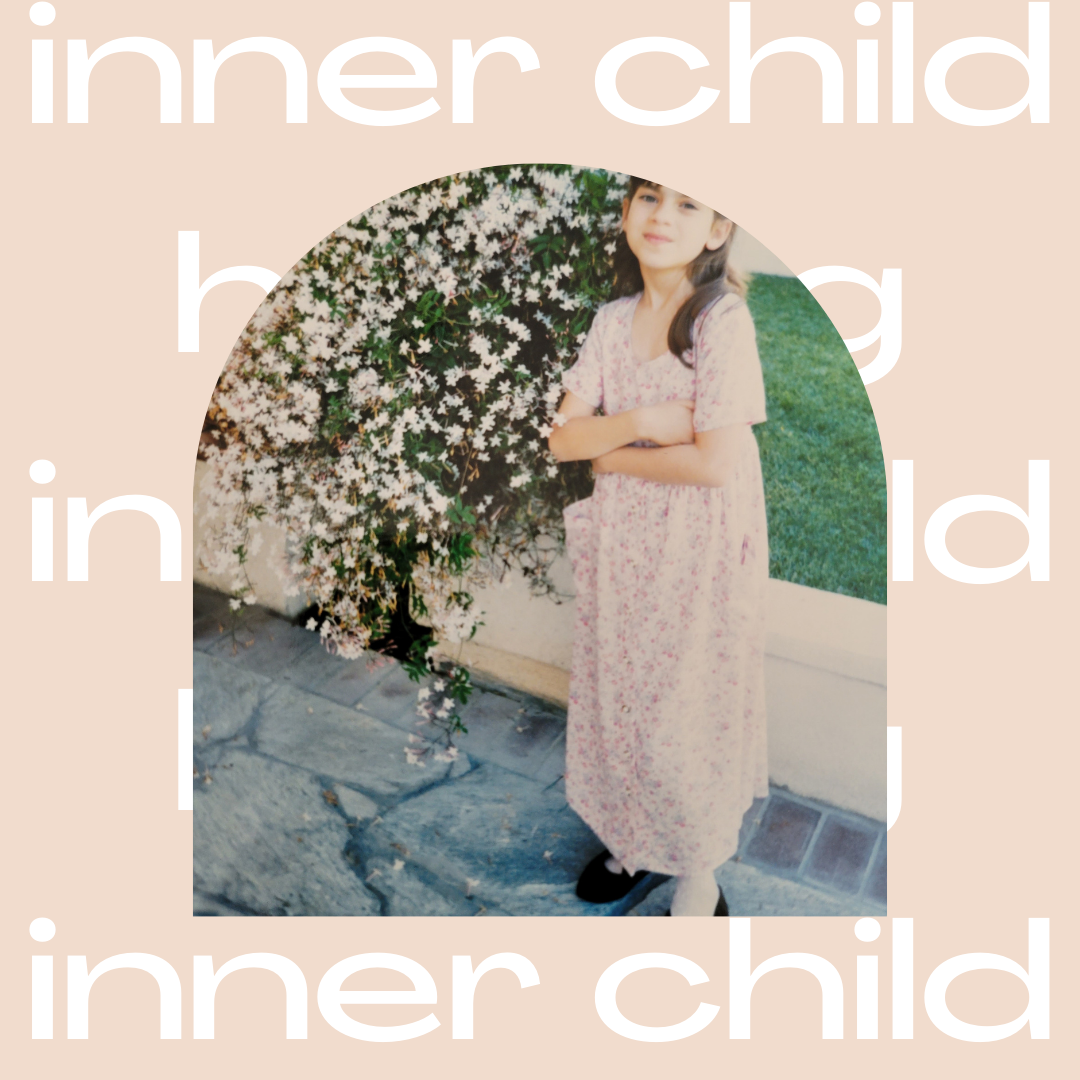 I know from personal experience how difficult doing the work can be. I feel so inspired to share the knowledge I have of how to liberate yourself from your past. To find the tools to really heal and have the life you want. It makes me so happy to know that all my hard work is helping my clients move toward thriving!!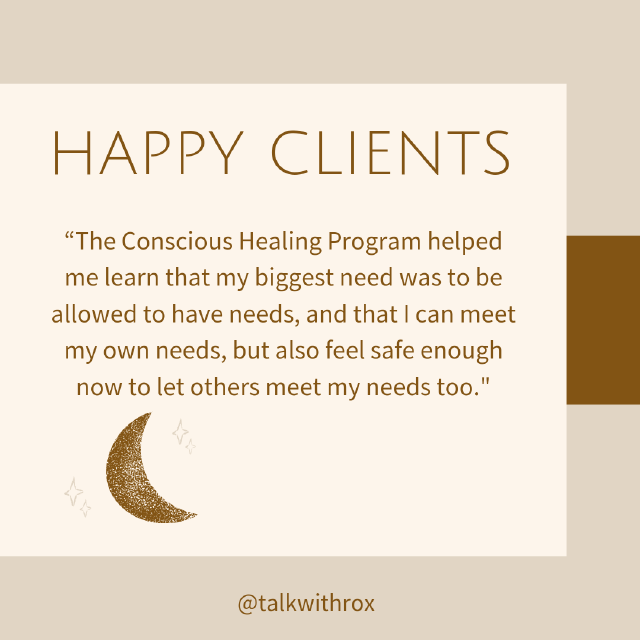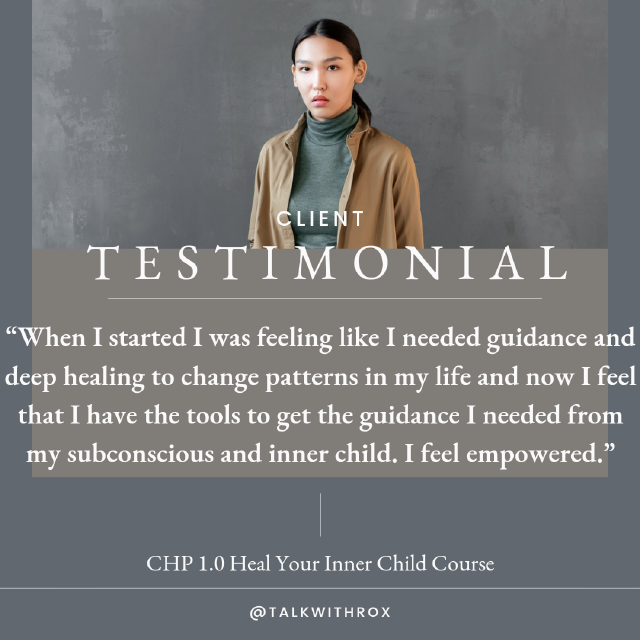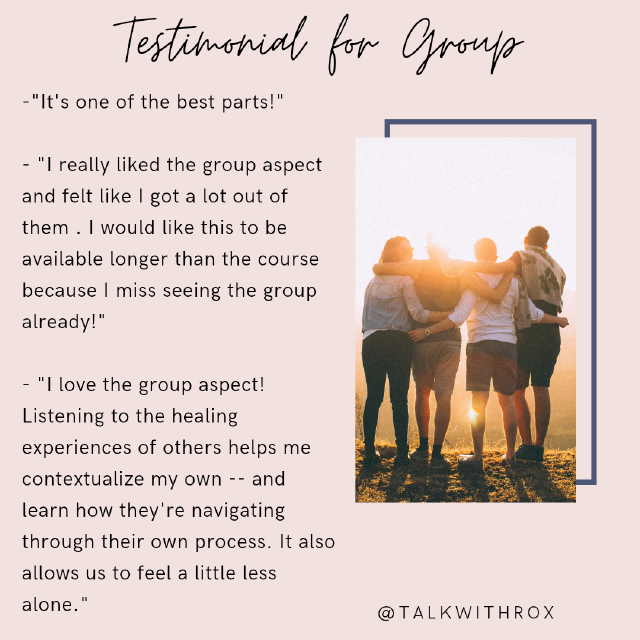 This program is for you if…
✓ You know your past is holding you back and that you could be living a more true, authentic, and beautiful life
✓ You suffer from the symptoms of inner wounding (self abandonment, self doubt, lack of purpose, codependency, toxic relationships, anxiety) and are ready to make a change
✓ You want to learn tools that you can use for the rest of your life to regulate your emotions, counteract internal resistance, and break toxic cycles
✓ You like having self-led exercises and self work to do on your own, but want the accountability and support from regularly meeting with a therapist and group
This is not for you if…
✓ You're not ready to leave your current patterns behind (aka your comfort zone)
✓ You're not willing to put in the effort needed to work through your wounds or share your progress with the rest of the group
✓ You refuse to delve into your own past to figure out how to take control of your future
✓ You're looking for private, 1:1 therapy (email me about my private practice: [email protected])
My greatest healing came when I stopped fighting who I was.
This program will get you on the path to do the same.
Hi! I'm your guide, Roxana.
I specialize in working with clients who have experienced trauma in childhood. Every day I help clients find relief from the symptoms of inner child wounding, not to mention panic attacks, anxiety, and depression. 
Even more than that, I've struggled with my own inner child wounds in the past. I spent years learning how to reparent the parts of me that felt undeserving and undesirable. I'm here to tell you that I've been there, and I know how hard it can be.
But in order to own your future, you need to own your past. This process can be really overwhelming, so that's why I created the Conscious Healing Program.
I'll give you the safe space you need to go deep and process your wounds, while also providing the support and tools to help you work through them and heal.
I really and truly believe that this program will change your life. You'll end the 8 weeks feeling so much more clear about why certain patterns keep emerging in your life, and what you need to do to stop them. You'll feel a sense of joy that's been missing, maybe since you were a child.
Through it all, I'll be here to remind you that you are worthy of change. You are worthy of good habits. You are worthy of joy. You are worthy of acceptance. You are worthy of self love.
I can't wait to get you there.
By the time it's over, you will feel like a whole new person...but you won't be. You'll just be the best version of you.